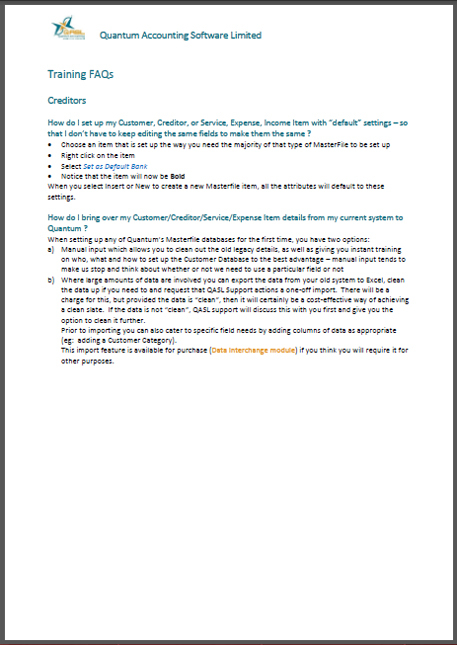 http://www.qasl.co.nz/page57f2ae2669ee06780c34ea95
Our fully integrated accounting software was created with the needs of the service industry in mind, for a more effective product.
Discuss your needs with a financial expert at QASL, to find out how our versatile, adaptable accounting system can help your business.
We make operating and understanding our system easier with a user friendly interface.
Optimized Accounting Software.  Click here.

Whether your business is just starting out, or a well-established enterprise, Quantum Accounting Software provides a versatile, reliable system that is effectively user friendly. Help with our software

Quantum Accounting Software is intuitive, but from time to time we all need to ask questions and learn more. Our aim is to help you work smarter, efficiently, and to enjoy your time in the software. Support FAQs
 http://www.qasl.co.nz/page57f2ae2669ee06780c34ea95

Looking for some quick answers? Check out our Frequently Asked Questions which are conveniently organised in sections - these may offer some help or guidance.
www.qasl.co.nz
Create specifically for the service industry, we offer a fully integrated, enhanced accounting software package.
29th May, 2017 - National